In 2004, Francois & Rondell Brun-Wibaux purchased a 14 acre cow pasture on Lorraine Road. The only structure was a small caretaker's house (now the contractor sales office) that was immediately fixed up and rented for much needed income. Additionally, 2 acres were sold off to a neighbor for an extra cash infusion, enabling us to purchase a used skid steer, and so our dream began.
During the next 13 months, with three kids in tow, we spent every evening after work, weekends and holidays building the infrastructure to grow plants.
Over 600 truckloads of fill dirt, road base and crushed shell were delivered and spread out. A two acre pond was dug and over 15 miles of irrigation pipe was laid underground along with underground drains and the whole property was graded so that all irrigation and rain water recycle back into the pond. 30,000 Tilapia hatchlings were released in the pond to control herbaceous growth. 20 greenhouses purchased from a defunct fish farm were dismantled, moved and re-erected; irrigation pumps installed and we also had our home built at the same time on the back acre so as to be at the nursery 24/7.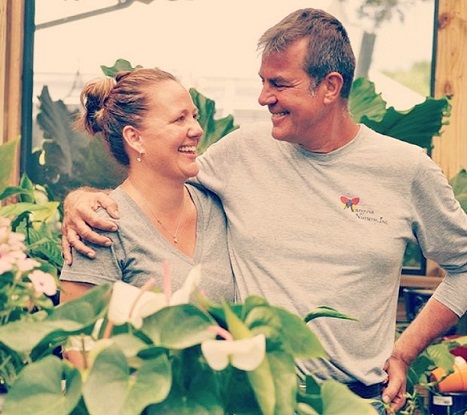 Finally, in February 2005, after quitting our jobs, Mariposa Nursery opened with just three employees, Rondell, my loyal and hardworking friend Ciro and I. (There was actually one more member, though not on the payroll, that was with us every single day, happily keeping us company, shaded by my pickup, watching with intrigue every move, Mia "Big nose")
After the first year, we had 15 full time employees, catering solely to the landscape trade. I must admit those were the fun years, there was a "we can do, will do anything" atmosphere in the air. Writing these words awakens my memories, like the many a night when we were loading semi-trucks destined for Texas, our cars and trucks parked in a half circle with headlights on to illuminate the back of the semis, and our two little twin girls, 5 to 6 years old at the time, diligently helping us carry the plants to be loaded, for hours at a time! Now they won't be seen anywhere close to what resembles work!
In early 2007, Mariposa Nursery purchased an additional 7.5 acres that had a beautiful two story residential house. After 11 months, another pond was dug, irrigation was laid, land graded, more truckloads of fill dirt, shell and road base brought in, a paved parking lot and entrance added. We also added a "Check out" tower and specialty greenhouse. The house was stripped and refinished and stocked with unique household and gardening related items, from artwork to custom made lamps to sculptured glass and so much more. Hence the Garden Center was created and opened in November 2007.
Then, in 2008, the "bubble burst". Now it wasn't that much fun anymore. The daily goal was to make our monthly loan payments to the bank and payroll.
In 2011, we added another large pavilion/greenhouse. Made entirely out of wood, it was constructed by local Mennonites and is a beautiful addition to the garden center. It is stocked with exotic and specialty plants such as cactus, bromeliads, orchids and house plants to name a few, along with garden décor, tools and gardening supplies.
Today, with 20 acres in full production, we offer the most complete array of plant material, mulches, pottery, chemicals, fertilizers, soil amendments, boulders, fountains and gardening tools in the tri county area. Other services offered are delivery, free pest and disease identification and cure recommendations, providing contractors for design and installation projects and honesty.
I still run the overall nursery production and deal with the contractors needs on a daily basis. Ciro takes care of the outside operations. Rondell, my lovely wife, takes care of the office.
Francois.