ATTENTION: We now carry Floratam Saint Augustine Sod Plugs
---
WHAT'S NEW IN THE PAVILION
---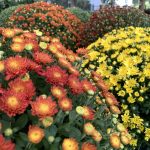 We have large array of new plants and restocks of some classics that you've been waiting for! Mums are finally in! Mums are a great fall addition to your front porch or patio. We also have in a new type of Philodendron called 'Pink Princess' Philodendron. This plant is very rare to come by. It's stunning pink leaves are eye catching and with add a pop of color to your home!

WHAT'S NEW IN MECCA
---
Our selection of Dianthus are what's hot in Mecca this month. Not only are Dianthus a great Fall annual, they also provide a wide variety of vibrant color to your garden! You can also find Petunias, Zinnia, and Flowering Kale out in Mecca. Stop by and ask a Sales Associate to show you around our beautiful property!

---
WHAT'S NEW IN THE COURTYARD
---

Come check out our new and unique inventory of pottery, Terra Cotta, and Mexican Talavera pottery! In addition to our gorgeous new pots, we also have statuary, wind spinners, and fountains. Whether you're looking for a nice pop of color for your garden or a nice elegant statuary addition to your yard, you're sure to find it here. Behind our Pavilion, we have a lovely display of cast iron benches and Fire Bowls. With cooler weather coming, our cast iron benches will be the perfect outdoor seating option for your home!
---
WHAT'S NEW IN THE GIFT SHOP
---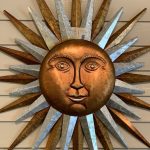 Our beautiful Gift Shop has some exciting new items this month! We received new metal wall art, tea towels, and a unique cast iron bistro set. Don't forget, we have a wide variety of artificial flowers for you to curate your own arrangement. Artificial flowers are one of the greatest ways to keep your home in bloom year round.